Thank you for your purchase. With the installation of this CARAMORE plate, we hope that you will help prevent any further catalytic converter theft. The included hardware kit will help further secure your catalytic converter and deter thieves.
Compatibility:
Toyota Prius Generation C 2012- 2019
Package Contents:
Aluminum Security Plate
(1) Front Security Plate
(6) 3/16" Rivets-long
Security Screws
(4) Self-Tapping Screws
(2) Washers
(2) Tamperproof Security Bolts
Lock nuts
(1) H6 Security Bit
STEP 1:
The front support brace is to be installed first. Using the tamper proofbolts, washers and lock nuts supplied, install the brace. The bolts will insert through the holes shown. The washers/lock nuts are installed on the other side.
Before tightening the security bolts firmly down, ensure the support brace is pulled back as far as possible. The support brace and the subframe need to be as flush as possible. The installed brace should look like the picture below.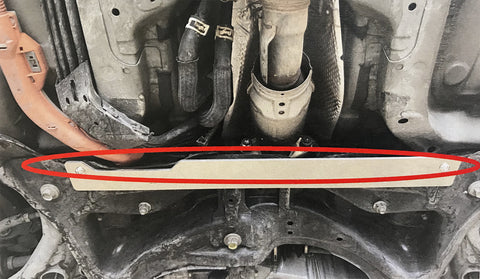 STEP 2:
Once the support brace is secured, install the main CARAMORE shield by doing the following. Hold the shield up, aligning the front with the support brace. Install the 4 self-tapping screws in the locations shown.
NOTE: The front two self -tapping screws will not be removed.
Pro Tip: Before installing the shield, bend the front long perforated tab into a 90°bend. This action will help keep the CARAMORE shield square. To help with ease with anti-rattle, place a slight bend in the entire shield by grabbing the outsides and pulling towards you with a knee or foot placed in the middle.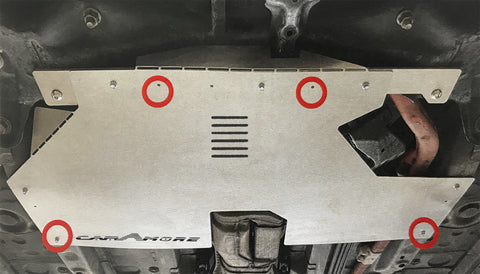 STEP 3:
Using a 3/16" drill bit ,drill holes in the front support brace as shown and install the (2) 3/16" long rivets. Drill out the sides as show and install the remaining (4) rivets.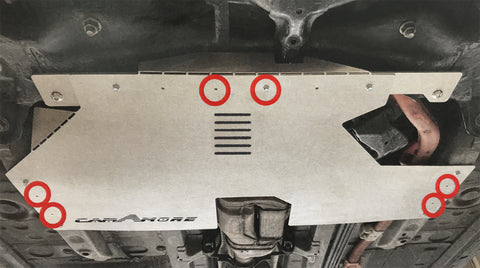 STEP 4:
  Install the security screws in the corners of the CARAMORE shield. You can use the self-tapping screws to make the holes for the security screws, if you do not have a drill bit. Install security screws and fold the small tab up to finish the installation.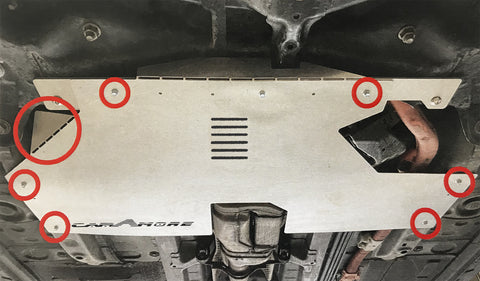 Thank you for reading!