Thank you for your purchase. With the installation of this CARAMORE plate, we hope that you will help prevent any further catalytic converter theft. The included hardware kit will help further secure your catalytic converter and deter thieves.
Highly recommend professional installation
Summary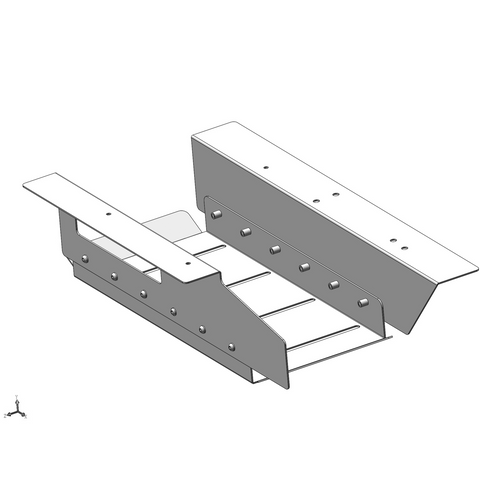 Hardware List:
4*
allen socket cap
 bolts M8*25
3* allen socket cap bolts M6*25
12* allen hex drive button head screws M6*16
12* washers M6
Please check that you have all the mounting hardware mentioned above before you install it.
Special Note:
1. Off-road use only
2. Will work with aftermarket catalytic converters if the oxygen sensor is still in the original location.
3. We can not 100% guarantee no more catalytic converter theft. It will be defeated with enough time. It is more like a metal deterrent to warn the thieves.
4. We will only offer the warranty under normal use. No responsibility for the misuse or the incorrect installation.
You may need the following tools:
Steps:
Lift and secure the car. 
If you choose to assemble the all pieces first to install it, It would be better if you can get someone to help you hold the shield plate during the installation. Use 12 button head bolts & washers to connect all 3 pieces like the pic we offered. Then find the right place to put it on. -Please note the cutout is made for the oxygen sensors on the model. Make sure the correct direction.
Unplug the two oxygen sensors (do not remove them.) and use 
10mm socket to remove the bolt for the oxygen sensor bracket, this will be replaced with a supplied bolt. Slip the Oxygen sensor wires through the hole and use 2 x M6 bolts (supplied) to loosely tighten the panel in place just
enough to hold the piece in place but still allow for some movement.
Under the car, on the passenger side, next to the catalytic converter, remove the original bolts in the same location (some holes will not have a Honda bolt). Use a 10mm socket to remove one bolt (towards the front of the
car), and a 12mm to remove the larger bolts.
Use 1 x M6 bolt and 4 x M8 bolts we offered (Or buy you own security bolts instead) for the replacement. Loosely tighten the panel in place just enough to hold the piece in place but still allow for some movement. To be sure the botls are not over torqued, or will break.