Thank you for your purchase. With the installation of this CARAMORE plate, we hope that you will help prevent any further catalytic converter theft. The included hardware kit will help further secure your catalytic converter and deter thieves.
Highly recommend professional installation
Summary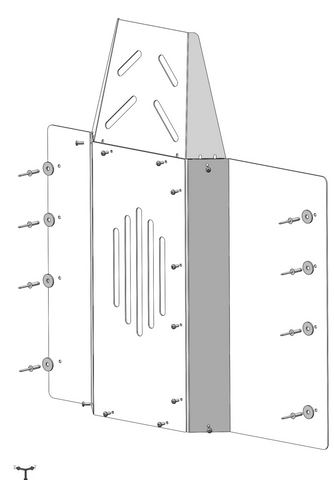 You may need the following tools:

Heavy duty rivet gun

13/64 to 3/16 metal drill bit

Steps:

First of all, make separate parts assemble like attached pic above. Use bolts (All the security bolts. screw them with the unique bit included in the hardware bag) to connect the front and the rear.

Lift up your vehicle and access to the underbody. The shield might be a little heavy so you need another guy to help hold it before you drill the hole. Find the right place to place the shield.

Then use a metal drill bit to drill 8* holes referenced with the template. Located on the left and the right wing. After drilling the holes into the frame, Take the shield down and spray paint holes to avoid future rusting. Place the shield up again and align it with the holes you drilled. Use a rivet gun to finish the installation.
Separate design. So it's adjustable.
*If you meet with a rattling sound while driving - this may happen to some shileds. Please consider adding up the spacers.